Beach camping tips include choosing a suitable campsite, packing appropriate gear, and preparing for potential coastal hazards. In this guide, we will provide you with essential tips to make the most of your beach camping experience.
Camping at the beach can be a truly unique and rewarding experience. The soft sand, salty air, and soothing sound of the waves can create an unforgettable atmosphere. However, this type of camping also requires some additional planning and preparation compared to traditional camping trips.
In this article, we will cover the most important tips for beach camping, which include selecting a suitable site, packing the right gear, staying safe from coastal hazards, and minimizing your impact on the beach environment. Whether you're a seasoned camper or a first-timer, this guide will help you make the most of your beach camping adventure.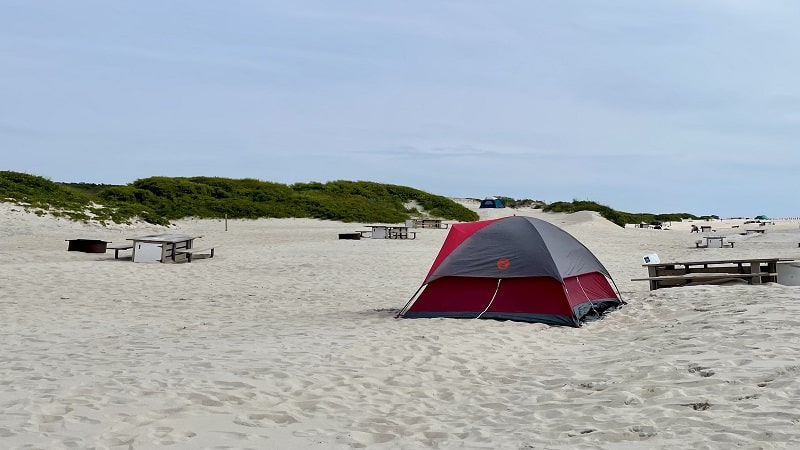 Credit: gohikevirginia.com
Essential Beach Camping Gear
Planning a beach camping vacation can be exciting, but it requires a bit of preparation beforehand. Just like any other outdoor adventure, you need to have the right gear to ensure a safe and comfortable trip. In this blog post, we'll focus on the essential beach camping gear you should consider bringing along on your trip.
From shelter to chairs and portable toilets, we've got you covered with everything you need to know to make the most of your beach camping experience.
The Tent: What To Look For
Your tent is your primary shelter when camping on the beach, so it's essential to consider the size, weather resistance, and ease of setup when selecting the right tent for your trip.
Size: Consider the number of people that your tent can accommodate.
Weather resistance: Choose a tent that is waterproof and wind-resistant to cope with unpredictable beach weather conditions.
Easy setup: Look for tents with quick and straightforward assembly, so you can relax and enjoy the beach faster.
Sleeping Bags And Sleeping Pads
A good night's sleep is crucial for any camping trip.
Temperature rating: Choose sleeping bags that are suitable for the expected weather conditions.
Material: Consider the type of material that suits your needs, such as natural down or synthetic fibers.
Comfort: Bring along a comfortable sleeping pad to ensure you get a good night's sleep.
Lightweight Camping Chairs And Tables
Camping chairs and tables are essential for comfort and convenience when you're relaxing at the beach.
Weight: Look for chairs and tables that are lightweight, easy to carry, and assemble.
Durability: Consider materials that can withstand the beach elements such as saltwater and sand.
Comfort: Look for comfortable chairs with good back support for extended periods of sitting.
Sunscreen, Insect Repellent, And First-Aid Kits
Safety and protection from the elements are important during your beach camping trip.
Sunscreen: Choose a high spf sunscreen to protect your skin from harmful uv rays.
Insect repellent: Bring along insect repellent to keep pesky bugs and insects at bay.
First-aid kit: Always carry a first-aid kit with you that includes essentials like bandages, antiseptic, and pain relief medication.
Portable Showers, Toilets, And Trash Bags
Lastly, it's important to consider hygiene, privacy as well as environmental impact.
Portable showers: Consider a portable shower that is easy to use and able to preserve water.
Portable toilets: Look for compact, easy-to-store portable toilets that are easy to clean.
Trash bags: Make sure you have enough waste bags to dispose of all your trash properly.
Having the right gear is critical to enjoyable beach camping experience. We hope that these essential beach camping gear suggestions help you make the most of your next beach camping adventure. So, gear up and head to your next destination with the knowledge that you are well-prepared to face any camping situation that comes your way.
Planning Your Beach Camping Trip
Beach camping can be a memorable and exciting way to experience the breathtaking natural scenery while surrounded by water waves and a refreshing breeze. Whether you're going alone, with your family, or in a group of friends, there are things you need to know before you start planning a beach camping trip.
In this blog post, we will go over some essential tips for beach camping.
Choosing The Best Location
When it comes to selecting the perfect beach camping spot, there are several factors to consider, such as the amenities, restrictions, and surroundings.
Look for a spot that's close to the water source, restrooms, and designated fire pits.
Make sure you check whether camping permits are needed or not before selecting a location.
Choose a spot with stunning natural surroundings and try to avoid overcrowded and noisy areas that may affect your camping experience.
Checking Weather And Tides
It's important to check the weather and tides to make sure you're prepared and safe. You wouldn't want to experience a rainy night at the beach without the necessary equipment or be unprepared for high tide.
Check the weather forecast before your trip, including the wind forecast, as the wind can impact your camping experience.
Make sure you know the tide patterns, especially high tide, to avoid trouble locating your campsite after dark.
Getting Camping Permits
Getting camping permits is essential to avoiding trouble with the local authorities.
Check the rules and regulations regarding camping permits in the area where you plan to camp.
Some areas may have strict deadlines for booking a camping permit, so make sure to book in advance to avoid disappointment.
Deciding On The Length Of The Trip
Determining the length of your trip will impact the number of essentials and equipment you bring, so plan accordingly.
Consider your budget and time frame when planning your beach camping trip duration.
Factor in additional time for setup and breakdown and allow for unforeseen circumstances such as weather-related events.
How To Pack Efficiently
Packing efficiently is key to have a successful beach camping trip.
Make a list of all the things you need before you start packing.
Pack light and only bring the essentials
Make sure your equipment is compatible with beach camping conditions such as sand-proof bags for electronics, waterproof bags for valuables, and sand stakes for tents and canopies.
Beach camping can be a fantastic experience if you take the time to plan accordingly, choose the best location, and pack efficiently while following the rules and regulations of the area you're camping in. With these tips in mind, you'll be able to have an unforgettable and enjoyable beach camping experience.
Staying Safe On The Beach
Beach camping can be one of the most exciting and relaxing getaways you can have, but it's crucial to keep safety in mind at all times. While beach camping, there are several potential hazards you should be aware of, such as high tides, strong winds, and potentially harmful sun exposure.
In this post, we'll dive into tips on how to stay safe when beach camping, including rules and regulations to follow, current and tide movements to watch out for, fire safety, and more.
Dealing With High Tides And Strong Winds
Always research tide charts and weather forecasts before heading out.
Pitch your tent at a safe distance from the water's edge, ideally above the high tide line.
Use strong tent pegs and guy lines to secure your tent against strong winds.
Secure loose items like chairs, towels, and umbrellas to heavy objects or bury them in the sand.
Protecting Yourself From The Sun
Wear sunscreen with a high spf, and reapply every two hours.
Keep yourself hydrated by drinking plenty of water and avoiding alcohol.
Seek shade during the hottest periods of the day.
Wear protective clothing like hats and long-sleeved shirts to reduce sun exposure.
Understanding Current And Tide Movements
Always be aware of the surroundings and take note of any signs or warnings.
Stay a safe distance from the water's edge, as water levels can rise quickly during high tide.
Never swim alone, and always supervise children playing in the water.
If caught in a rip current, float and remain calm until you've been released from the current. Swim sideways to escape the current, not towards the shore.
Rules And Regulations For Beach Camping
Research local regulations before setting up camp.
Leave no trace by taking all trash with you and avoid damaging the environment.
Keep your pets on a leash and clean up after them.
Follow fire regulations and only make fires in designated areas with sufficient clearance.
Fire Safety On The Beach
Only use designated fire pits or areas for fires.
Keep a bucket of water nearby in case of an emergency.
Never leave fires unattended and ensure fires are extinguished before going to bed or leaving the area.
Only use natural materials for fire fuel and avoid burning plastics or other toxic materials.
By following these tips, you can stay safe during your beach camping trip while enjoying the great outdoors. But always remember to research and follow local regulations, maintain awareness of your surroundings, and take precautions to protect yourself and others.
Safe travels!
Fun Activities For Beach Camping
Beach camping can be an exciting and enjoyable way to get out and explore the great outdoors. If you're planning a beach camping adventure, there are plenty of activities to keep you and your family entertained.
Beach Games For The Whole Family
Playing games on the beach can be a great way to get everyone involved and have some fun.
Volleyball: A classic beach game that requires a net and a ball. It's easy to set up and can be played with multiple players.
Frisbee: Another simple game that can be played with multiple players. You can even set up a game with teams.
Sandcastle building: If you have younger children, building sandcastles can be a fun and creative activity.
Exploring Tide Pools And Wildlife
One of the best things about beach camping is being able to explore the natural environment around you. You can discover new marine life and wildlife in the area. Some beach camping locations have visitor centers or guided tours that explain the environment of the area.
Explore tide pools and look for marine animals like crabs, sea stars, and anemones. It's a great way to teach children about marine life.
Go birdwatching: If you're camping near the coast, there are usually plenty of seabirds to observe.
Water Activities: Kayaking, Surfing, And Paddleboarding
Being on the water is what beach camping is all about.
Kayaking: Kayak down a nearby river or across the calm ocean water. It's a great activity for all levels of adventurers.
Surfing: If you have experience, try surfing on the waves. If you don't, consider taking lessons.
Stand-up paddleboarding: It's a fun and relaxing way to explore the coastline.
Nighttime Activities: Stargazing And Bonfires
The fun doesn't have to stop once the sun goes down.
Stargazing: Beaches are often free of light pollution, making it an ideal spot for stargazing.
Build a bonfire: Build a bonfire and roast some marshmallows for s'mores.
How To Make The Most Of Your Experience
Don't forget to make the most of your beach camping experience.
Pack wisely: Bring appropriate camping gear, including sunscreen, bug spray, and cooking equipment.
Plan ahead: Research the location and weather conditions before you go.
Leave no trace: Take care of the environment and wildlife, and respect the area by cleaning up after yourself and following all regulations.
Now that you have some fun ideas for activities to do on your beach camping adventure, get out there and have some fun!
Frequently Asked Questions For Tips For Beach Camping
What Are The Essential Items To Pack For A Beach Camping Trip?
Pack sunscreen, insect repellent, tent, sleeping bag, cooler, and camping stove. Also, bring clothes for different weather and footwear appropriate for the beach.
How To Protect Yourself From Bugs And Pests While Beach Camping?
To protect yourself from bugs and pests, apply insect repellent, wear long-sleeved shirts, long pants, and avoid using fragrant products. Also, keep food stored and trash sealed.
Are Campfires Allowed On The Beach While Camping?
Check the beach's fire policy before planning a campfire. Some beaches allow it, while others prohibit it. If allowed, make sure to follow safety guidelines and put out the fire correctly.
What Are Some Water Activities To Do While Beach Camping?
Swimming, snorkeling, kayaking, paddleboarding, and fishing are some of the water activities you can enjoy while beach camping. Make sure to take safety precautions and check water conditions before going in.
How To Deal With The Heat And Sun While Beach Camping?
Wear lightweight, breathable clothing and a hat to protect yourself from the sun. Also, apply sunscreen regularly and stay hydrated by drinking plenty of water. Consider setting up shade tents or umbrellas.
Conclusion
After reading this guide, you should be well-equipped to plan the perfect beach camping trip. Remember to always research the location beforehand, pack the appropriate gear and supplies, be mindful of the environment, remain safe and respectful towards others, and most importantly – have fun! With these tips in mind, you can relax and enjoy the beauty of the beach while creating unforgettable memories.
Whether it's your first time beach camping or you're a seasoned pro, these guidelines will ensure a comfortable, safe and enjoyable experience. So, grab your friends and family, pitch a tent, and enjoy the stunning beach views, clear blue water, and endless sunshine – make your next beach camping trip one for the books.
Michael has been a traveler and blogger since he was 17 years old. Now his passion is hiking, traveling, camping, and revealing his outdoor secrets. Stay connect with us for outdoor events and camping trips together.