Hawaii is known for its stunning beaches, and these 12 are the best to visit. With crystal-clear waters, soft sand, and unforgettable sunsets, each of these beaches offers a unique experience for visitors.
From family-friendly spots like waikiki beach to secluded coves like honopu beach, there's something for everyone in hawaii's beach paradise. Whether you're a surfer looking for the perfect wave or a beachgoer seeking a relaxing day in the sun, hawaii's beaches are the ultimate destination.
The islands are home to an abundance of picturesque coastline, making it easy to find a spot that fits your preferences. To help narrow down your choices, we've put together a list of the 12 best beaches to visit in hawaii. Get ready to pack your bags – paradise awaits!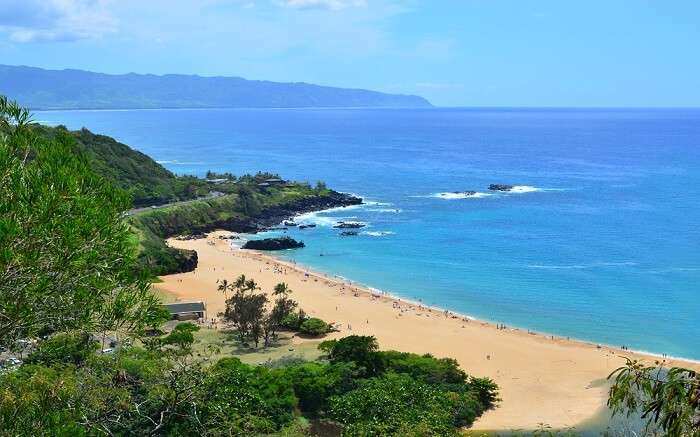 Credit: traveltriangle.com
The Best Beaches On Maui
Maui is a picturesque island with rolling hills, tropical forests, and scenic beaches that make it the perfect getaway spot. The island boasts a wide range of activities, scenic drives, and stunning beaches that attract visitors from all over the world.
Maui's beaches are some of the best in hawaii, with crystal blue waters, golden sand, and an array of marine life. Let's explore the two best beaches in maui.
Kaanapali Beach
Kaanapali beach is located on the west coast of maui and is one of the most popular beaches on the island. The beach stretches for three miles and is easy to access from the town of lahaina.
Kaanapali beach is one of the best beaches in maui, known for its calm waters and soft sand.
The beach is perfect for swimming, snorkeling, and other water activities.
The beach is surrounded by beachfront resorts, restaurants, and shops.
Maui's famous cliff diving ceremony takes place every evening at black rock, located at the north end of the beach.
Makena Beach
Makena beach, also known as big beach, is located on the south shore of maui. The beach is a mile-long stretch of fine-grained sand and is considered one of the best beaches in maui.
Makena beach is ideal for sunbathing, picnics, and swimming.
The beach has clear blue waters, perfect for snorkeling and spotting marine life such as sea turtles.
The beach has a few shady spots and restrooms, making it comfortable for a full day at the beach.
The area around makena beach has several food stalls and trucks, perfect for a quick snack or a refreshing drink.
Kaanapali beach and makena beach are two of the best beaches in maui, offering stunning views, crystal-clear waters, and a host of activities. Whether you want to sunbathe, swim, or snorkel, these beaches offer something for everyone.
The Best Beaches On Oahu
The Best Beaches On Oahu: Waikiki Beach
Waikiki beach is the most famous beach in hawaii, and for a good reason. It boasts of a wide stretch of golden sand that is perfect for sunbathing, swimming, and surfing. In fact, waikiki beach is a surfer's paradise, and beginners and pros alike will find waves that suit their level of experience.
Waikiki beach has some of the best surf breaks, especially for beginners. You can take group surf lessons, rent surfboards, and practice your surfing skills.
The beach is close to shops, hotels, and restaurants, making it a convenient spot for tourists who want to enjoy the sun, sand, and sea while still having access to modern amenities.
Waikiki beach is a popular spot for sunset views, and you can soak in the beautiful panoramic view of the sunset while relaxing on the sand.
The Best Beaches On Oahu: Lanikai Beach
Lanikai beach is on the east side of oahu and is famous for its crystal-clear waters and picture-perfect views. The beach has powdery, white sand and is ideal for swimming and sunbathing.
The beach has excellent snorkeling spots around the area, with a wide variety of sea life and underwater landscapes to discover.
Lanikai beach is home to a few small islands that you can reach by kayak or sup. These islands are perfect for a mini-adventure, and you can take a picnic lunch or just relax on the island.
The beach is relatively secluded compared to other beaches on oahu since it's nestled in a residential neighborhood. This makes for a quieter and more peaceful day at the beach.
Waikiki beach and lanikai beach are two of the best beaches on oahu that you shouldn't miss. Both beaches have unique features that make them special and worth visiting. Whether you're looking to learn how to surf or explore underwater wonders, you'll find something to enjoy on these beaches.
The Best Beaches On Kauai
Kauai, also known as the garden island, is one of the most unique and stunning islands in the hawaiian chain. This island is home to some of hawaii's most beautiful beaches that are perfect for swimming, snorkeling, surfing, and soaking up the sun.
In this post, we'll be discussing the two best beaches on kauai and why they're worth a visit.
Poipu Beach
Poipu beach is one of the most popular beaches on kauai, located on the south shore of the island. This beach has everything you could want for a perfect day in the sun; soft white sand, calm turquoise waters, and lots of space to relax and soak up the hawaiian sun.
Some of the things that make poipu beach so special include:
Perfect conditions for swimming and snorkeling. The waters are calm, clear, and are teeming with colorful tropical fish and sea turtles.
Plenty of activities to keep you entertained. Whether you want to try surfing, paddleboarding, boogie boarding, or kayaking, there's something for everyone at poipu beach.
Family-friendly facilities, including restrooms, showers, and picnic areas, perfect for a day out with the whole family.
Hanalei Bay
Hanalei bay is located on kauai's north shore and is often considered to be one of the most beautiful beaches in hawaii. With its wide, crescent-shaped beach, turquoise waters, and lush green mountains framing the scene, it's easy to see why.
Here are some of the reasons why hanalei bay is so special:
It's a perfect spot for beach activities like swimming, boogie boarding, and surfing. The waters are generally calm but can get a bit rough when the surf's up, making it perfect for intermediate and advanced surfers.
Gorgeous viewpoints of the surrounding mountains make it a great place to take photos and enjoy the natural beauty of kauai.
Plenty of restaurants, cafes, and shops nearby make it a great place to spend a day out exploring kauai's charming small towns.
Whether you prefer calm, serene waters or waves to catch, kauai has it all. These two beaches stand out among the best beaches on the island. So why not plan your next trip to kauai and experience for yourself what makes these hawaiian beaches so special and unforgettable.
The Best Beaches On The Big Island
When it comes to picturesque beaches in hawaii, the big island is second to none. It boasts some of the most idyllic beaches in the world, each with its unique offerings. We'll explore two of the best beaches on the big island: hapuna beach and kua bay, and why they're worth the visit.
Hapuna Beach
Hapuna beach is a white sand beach stretching over half a mile along the west coast of the big island. It's one of the most popular beaches in hawaii, and for good reason.
Aquamarine water: Hapuna beach's clear and warm water is perfect for swimming, snorkeling, and other water activities.
Lifeguard services: Hapuna beach has lifesavers keeping watch from 8 am to 5 pm daily.
Picnic areas: If you're looking to have a picnic with your family or friends, this beach has plenty of shady picnic spots with built-in grills.
Restrooms and showers: The beach has accessible restrooms and showers to rinse off the saltwater after a swim in the ocean.
Kua Bay
Kua bay is a hidden gem in the big island. It's located along the kona coast in the northwestern part of the island.
Turquoise water: The water at kua bay is crystal clear, and the perfect temperature for swimming and snorkeling.
White sand beach: The beach boasts a wide expanse of pristine white sand that's perfect for lounging if you decide to take a break from snorkeling or swimming.
Free parking: Unlike many popular beaches in hawaii, kua bay has free parking, making it an affordable spot to visit.
Stunning sunset views: Kua bay's west-facing location makes it the perfect spot for watching the sunset over the ocean.
The big island is home to many of hawaii's best beaches, including hapuna beach and kua bay. Whether you're looking for popular white sand beaches with lifeguard services and picnic areas or hidden gems with turquoise water and stunning sunset views, the big island of hawaii has it all.
Factors To Consider When Choosing A Beach
Hawaii's impeccable beauty includes some of the world's renowned beaches, attracting millions of visitors each year. When choosing a beach to visit, there are several factors to consider to make your vacation memorable and stress-free.
Knowing Your Personal Preferences And Needs
The first step is to determine your needs and preferences when choosing a beach.
Purpose of the trip: Are you looking for a beach where you can relax, go swimming, or surf?
Activities: Do you want to go on a sunset walk, beach volleyball, or snorkeling?
Crowd: Do you prefer a calm and serene beach or a lively beach with plenty of activities and people?
Location: Do you prefer a remote location or a beach with easy access to shopping and dining options?
Time of the year: Some beaches have peak periods when they are crowded, while others are best visited at specific times.
Budget: Are you looking for a beach that offers free access or willing to pay for amenities and services?
Safety And Accessibility
Safety is paramount when choosing a beach.
Lifeguard services: Look for a beach with lifeguard services to enhance your safety.
Accessibility: If you have mobility issues, consider choosing a beach with easy access with ramps for wheelchairs and strollers.
Water conditions: Check the water conditions before venturing into the water. Strong currents and rocky bottoms should be avoided.
Beach rules and regulations: Look for beaches with clearly defined rules and regulations to have a safe and pleasant experience.
Beach Amenities And Nearby Attractions
While some beaches offer basic amenities, others have more elaborate amenities and nearby attractions.
Restrooms and showers: Ensure that the beach has restrooms and showers for a comfortable experience.
Picnic areas: If you enjoy picnics, consider a beach with picnic areas.
Parking: Look for a beach with ample parking for your convenience.
Food and drinks: Choose a beach with nearby restaurants and stores selling food and drinks.
Nearby attractions: Consider a beach with nearby attractions such as museums and cultural centers to enhance your vacation experience.
Latest Travel Restrictions
It's essential to consider the travel restrictions before choosing a beach in hawaii. With the ever-changing travel restrictions, be sure to check the latest travel guidelines.
Vaccination requirements
Quarantine restrictions
Pre-testing requirements
By keeping these factors in mind, you can choose a beach that suits your personal preferences and needs while ensuring your safety and accessibility. You can also enjoy the amenities and nearby attractions while adhering to the latest travel restrictions.
Frequently Asked Questions For The 12 Best Beaches To Visit In Hawaii
What Are The Most Popular Beaches To Visit In Hawaii?
Some of the most popular beaches in hawaii are waikiki beach, kaanapali beach, and lanikai beach. Waikiki beach is a great choice for those visiting honolulu, while kaanapali beach is a top option for those staying in maui. Lanikai beach, known for its clear turquoise waters, is located in oahu.
Can You Snorkel At Any Of The Beaches In Hawaii?
Yes, you can snorkel at many of the beaches in hawaii. Some of the best beaches for snorkeling are hanauma bay nature preserve, kahekili beach park, and pūpūkea beach park, which are all located in oahu. Snorkeling can be a fantastic way to see hawaii's pristine marine life up close.
Are There Any Hidden Gem Beaches In Hawaii?
Yes, hawaii has many hidden gem beaches that are worth exploring. One of these is makalawena beach, which can be found about 40 minutes north of kailua-kona in the big island. Others include mahaulepu beach in kauai and honopu beach in nā pali coast state wilderness park, which requires a hike to reach but has stunning cliffside views.
Conclusion
Hawaii is undoubtedly one of the best destinations for beach lovers. It has maintained its reputation for having some of the most beautiful beaches in the world. The 12 beaches that we have highlighted in this article are just a few of the many that hawaii has to offer.
Each of them has something unique to offer, from crystal clear waters to amazing underwater experiences. The stunning coastline views are a bonus, and the welcoming culture of hawaii definitely makes for a memorable beach vacation. Remember to take care of the beaches by following all the rules and regulations, and respect the locals and their culture.
Whether you want to relax or explore, hawaii's beaches have got you covered! So, pack your sunscreen, grab your shades and head to hawaii for a memorable beach vacation!
Michael has been a traveler and blogger since he was 17 years old. Now his passion is hiking, traveling, camping, and revealing his outdoor secrets. Stay connect with us for outdoor events and camping trips together.