A tent with a screen porch provides an enclosed space to enjoy the outdoors while being protected from insects. These types of tents are perfect for camping or any outdoor activity where bugs may be a problem.
The screened porch provides a relaxing and comfortable space to enjoy your surroundings without worrying about getting bitten or bothered by insects. The porch can also serve as a storage area for your gear, making it easier to keep your tent organized.
There are many different styles and sizes of tents with screen porches available, so you can find one that meets your needs and fits your budget. Whether you're a seasoned camper or a first-time adventurer, a tent with a screened porch is a great investment for anyone who enjoys spending time in the great outdoors.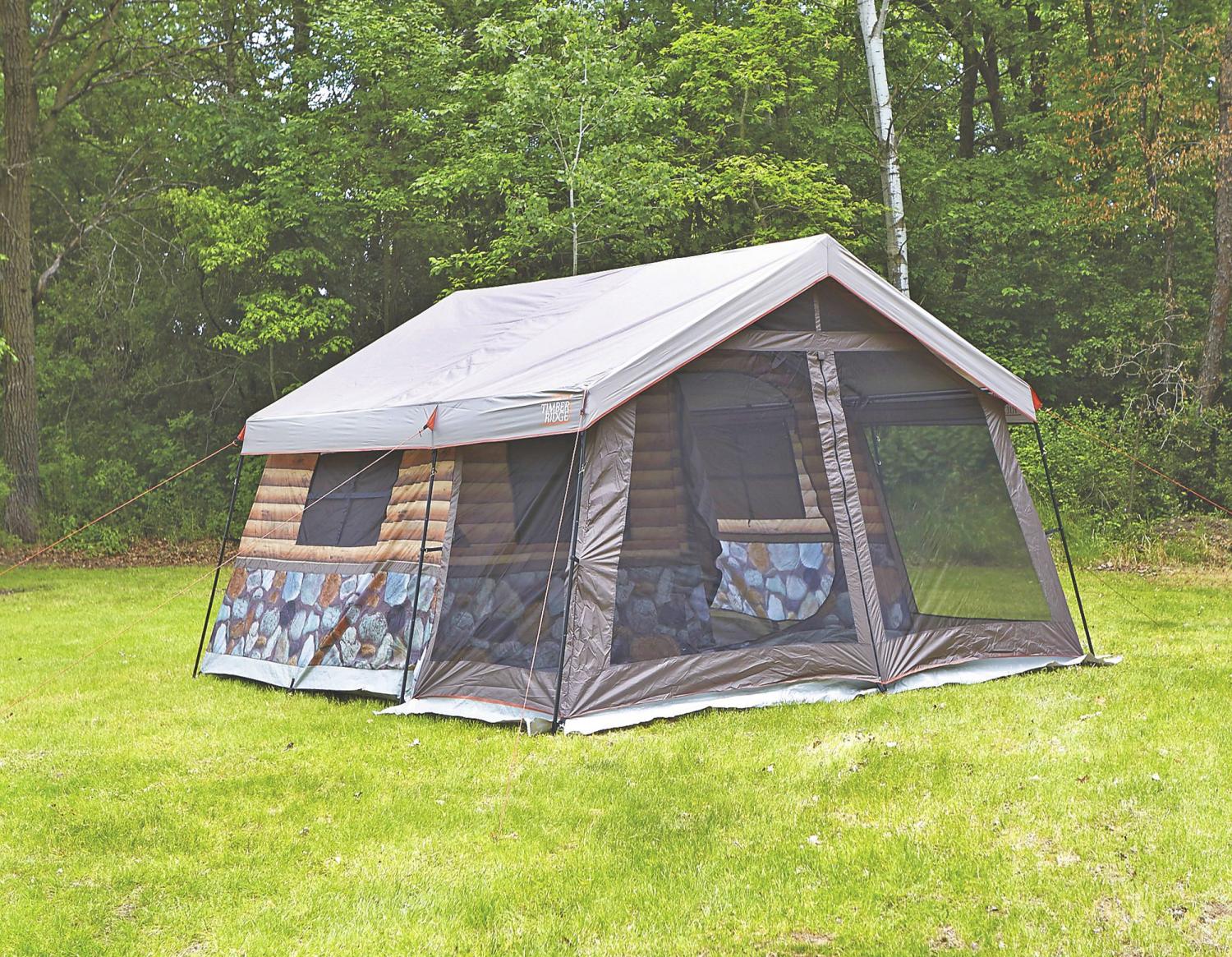 Credit: odditymall.com
Factors To Consider While Choosing Tents With A Screen Porch
If you're planning a camping trip, a tent with a screen porch can be an excellent option to consider. Not only can it provide you with a comfortable outdoor living space, but it can also protect you from pesky insects and provide better ventilation.
However, there are a few things that you should consider before you make a purchase.
Budget
One of the first things that you should think about is your budget. Tents with screen porches can cost anywhere from $100 to $500 depending on the size, material, and features. Determine what you can afford and find a tent that fits your budget.
Keep in mind that a higher-priced tent doesn't always guarantee better quality.
Tent Size And Capacity Needed
The size and capacity of your tent will depend on the number of people camping and their sleeping arrangements. If you're camping solo or with one other person, a smaller tent may suffice. However, if you're camping with a family or a group, you'll want to consider a larger tent.
Also, keep in mind that while the screen porch can be an excellent space to sleep or relax, you'll need to make sure that it doesn't take away from your sleeping area.
Material And Durability
The material of your tent will play a significant role in how well it can withstand the elements. Tents made from high-quality materials like polyester or nylon are often more durable and can stand up to heavy rain and wind.
Additionally, look for tents with robust frames and stakes that can anchor your tent to the ground securely.
Weather Resistance
When you're camping, you want to make sure that you're protected from the weather. A tent with a screen porch can be especially vulnerable to gusty winds and heavy rain, so you want to choose a tent that is designed to withstand those conditions.
Many tents come with a waterproof coating or a rainfly to help keep you dry.
Ease Of Set Up And Take Down
The last thing you want is to struggle with assembling your tent when you arrive at your campsite. Look for tents that are easy to set up and take down, even if you're solo camping. Many tents nowadays come with color-coded poles or clear instructions to make assembly a breeze.
When choosing a tent with a screen porch, consider your budget, tent size and capacity, material and durability, weather resistance, and ease of assembly. By thinking through these factors, you'll choose a tent that will be an excellent addition to your next camping trip.
Happy camping!
Benefits Of Tents With A Screen Porch
Tents with a screen porch combine the comfort and shelter of a tent with the luxury of a screened-in patio. They provide a high level of versatility and make camping even more enjoyable by creating an area where campers can relax, enjoy their meals and drinks, and take in the views around them.
We are going to look at the key benefits of tents with a screen porch.
Protection From Bugs And Insects
One of the most significant benefits of tents with a screen porch is their ability to protect campers from bugs and insects. Mosquitoes, flies, and other pesky insects can ruin even the most peaceful camping retreat. Tents with a screen porch keep insects out while allowing campers to enjoy the fresh air and natural light.
The screened area prevents the bugs from flying in, providing a safe sanctuary for campers to enjoy the great outdoors.
Better Circulation Of Air
Camping in the hot summer months can be unbearable without proper ventilation. Tents with a screen porch allow for greater breathability, ensuring that the air circulates freely, creating a comfortable and pleasant environment. Not only does this make it easier to sleep, but it also reduces humidity and condensation inside the tent.
The screen porch acts as a natural air conditioner by allowing for better airflow, creating a comfortable atmosphere inside the tent.
The screened porch also provides a buffer zone that acts as a ventilation system, helping to maintain the air-quality inside the tent.
Increased Space And Sheltered Areas
Tents with a screen porch come in a variety of sizes, providing extra space to accommodate various needs and preferences. Screened porches offer a separate area where campers can relax, cook, and dine without feeling confined to their sleeping area.
Kids can play games and read books in the screened porch, providing them with an excellent opportunity to bond with other kids.
You can store all of your camping gear outside your tent and keep the bugs at bay while still being in a sheltered area.
Enhanced Views Of Surroundings
Finally, tents with a screen porch allow you to appreciate your surroundings better. You will be able to admire the beauty of nature without worrying about insects or the sweltering heat. The mesh walls of the screened porch provide unobstructed views, even while lounging or eating.
The screen porch enables you to enjoy your pets' company while keeping them safe from the dangers of predators and the wilderness.
You can use the screen porch to enjoy stargazing without worrying about being bitten by bugs or getting exposed to harsh weather conditions.
Tents with a screened porch provide a range of benefits to any camping trip. They offer a comfortable and safe environment for campers to relax and enjoy nature while staying free from the bugs and insects. They provide better airflow, increased space, and sheltered areas, and enhance the experience by allowing you to enjoy the natural surroundings.
Next time you go camping, consider using a tent with a screen porch, and you will see the difference it makes to your overall experience.
Top 5 Tents With A Screen Porch To Consider
If you're a camping enthusiast, you know how important it is to pick the right tent for an enjoyable camping trip. But have you ever considered a tent with a screen porch? These tents not only provide you with shelter but also offer an extra space to relax and enjoy the outdoors without being bothered by bugs.
1. Coleman Evanston Dome Screened Tent
The coleman evanston dome screened tent is a spacious tent that provides enough room for six people. It comes with a large separate screen room that can be used for extra storage or as a bug-free space to lounge and enjoy the surroundings.
Easy to set up and take down
Patented welded floors and inverted seams keep water out
Large windows and mesh roof for maximum ventilation
Strong frame withstands wind up to 35 miles per hour
2. Wenzel 8 Person Klondike Tent
If you need a tent with a screen porch that can accommodate a large group, the wenzel 8 person klondike tent should be on your list. This tent has a spacious front screen porch that can fit chairs, a table, or other equipment.
Full mesh roof and windows for ventilation and views
Separate screened area for bug-free lounging
Waterproof and weather-resistant walls and flooring
Easy to assemble and disassemble
3. Ntk Super Arizona Gt Tent
If you're looking for a top-of-the-line option, the ntk super arizona gt tent is the perfect fit. It has a large and separate screened porch that can be used for cooking or dining, or simply to relax.
100% waterproof and heat-sealed seams
Extra-thick nano-flex fiberglass poles with double gold plated ferrules
Ventilated mesh roof area and large windows
Provides excellent protection against wind, rain, and insects
4. Mountainsmith Morrison 2 Person Tent
The mountainsmith morrison 2 person tent is perfect for backpackers and hikers who want a lightweight and compact option with a screened porch. It's a two-person tent with a spacious vestibule that can be used as a screened porch.
Durable and easy to set up
Two-door and two vestibule design
Mesh canopy for breathability and stargazing
Reflective guylines and webbing for safety in low-light conditions
5. Core 9 Person Instant Cabin Tent
Last but not least, the core 9 person instant cabin tent is another great option to consider. It has a large screened-in porch that can provide extra space for dining or lounging.
Instant setup in just two minutes
Spacious interior for up to nine people
Advanced venting system and adjustable ground vents
Includes a room divider and wall storage pockets
These five tents with a screen porch provide excellent options for camping enthusiasts who want to enjoy the outdoors without being bothered by bugs. Each tent has its unique features to cater to different camping scenarios. Choose the one that best suits your needs, and enjoy your next camping trip to the fullest.
Tips For Setting Up And Maintaining Tents With A Screen Porch
Camping is an excellent way to escape from the hustle and bustle of everyday life and appreciate nature's beauty. If you're planning on camping, nothing's better than a tent with a screen porch. Tents with a screen porch provide you with an outdoor area to relax, view the scenery and keep the bugs away.
In this section, we'll provide you with the guidelines for setting up and maintaining your tent with a screen porch.
Setting Up Guidelines
Before going camping, it's critical to set up your tent properly.
Select the ideal location: Choose a spot that is relatively flat, dry, and free of debris. Make sure you avoid areas where water can collect.
Read your tent's manual: Every tent is built differently; therefore, the ideal tip is to read the manual before starting. It will offer you a great idea of the proper assembly process.
Assemble poles ahead of time: Most tents have assembled poles; if you have extra poles, begin by assembling them. It will save you time when putting up the tent.
Maintenance And Storage Tips
Maintaining and storing your tent might appear unimportant, but it is not. Proper maintenance and storage are key to extending your tent's lifespan.
Clean the tent regularly: Dirt can accumulate, and insects may hide in your tent. To avoid harm to the material, it's critical to clean your tent after each camping trip.
Dry your tent: Before storing your tent, always ensure that it is completely dry. Mildew and mold can destroy your tent's material if they're allowed to grow on it.
Store the tent carefully: The goal is to keep the tent in the best possible condition. For this reason, ensure you store it in a dry, cool, and dark spot.
Suggestions For Enhancing The Experience
Setting up a tent with a screen porch is a fantastic way to enjoy the environment around you. However, there are a few things you can do to make your camping experience more enjoyable.
Invest in comfortable chairs: Often, you will be spending a lot of time relaxing outside the tent. To increase your joy, invest in comfortable chairs that you can relax on.
Add outdoor lights and decorations: These could be lights for the evening or other decorative items that will make the atmosphere more enjoyable.
Use the screen porch regularly: The screen porch is an excellent spot to take a break from the bugs and the sun. Use it regularly to soak in the views while staying bug-free.
Setting up and maintaining your tent with a screen porch could be difficult, but we hope that these tips make it easier for you. With these guidelines, you'll be able to make the most of your camping experience while minimizing the headaches that may come with it.
Happy camping!
Frequently Asked Questions On Tents With A Screen Porch
What Is A Tent With A Screen Porch?
A tent with a screen porch is a camping shelter that has an attached screened-in area. It provides an additional space to enjoy the outdoors while keeping bugs out.
Are Tents With Screen Porches Easy To Set Up?
Yes, tents with screen porches are easy to set up. They typically use a simple pole system and can be set up in under 20 minutes with just one or two people.
What Are The Benefits Of A Tent With A Screen Porch?
A tent with a screen porch allows you to enjoy the outdoors while keeping bugs out. It also provides an additional space to eat, relax or store gear and helps keep the tent interior clean and dry.
Can I Use A Tent With A Screen Porch In All Types Of Weather?
Tents with screen porches are suitable for most weather conditions except in cases of extreme wind, heavy rain, or snow. The screened-in area is not completely protected from the weather, so be prepared to take necessary precautions.
Do I Need Any Special Gear To Use A Tent With A Screen Porch?
You don't need any special gear to use a tent with a screen porch. However, it's a good idea to bring camping chairs, a table, and any additional gear you want to use within the screened area.
Conclusion
As you have seen, tents with a screen porch are an excellent option for those who want to enjoy nature without the hassle of bugs and insects. With various models available in the market, you can choose the one that meets your needs and preferences.
Some tents come with built-in porches, while others have attached screens that can be adjustable or removable. Remember to consider the size and design of the tent and porch so that it comfortably fits your group and camping style. Tent camping can be a fun and exciting adventure, and with the addition of a screen porch, it can be even more enjoyable.
So, next time you head out to the great outdoors, be sure to pack a screen porch tent to maximize your camping experience. Happy camping!
Michael has been a traveler and blogger since he was 17 years old. Now his passion is hiking, traveling, camping, and revealing his outdoor secrets. Stay connect with us for outdoor events and camping trips together.