Glamping is a luxurious way to enjoy nature. It combines camping with hotel-like amenities.
Glamping offers a unique way to commune with nature without sacrificing comfort. This trend has become increasingly popular in recent years, appealing to those who want to disconnect from the hustle and bustle of daily life, but still relish the finer things in life.
From spacious yurts to unique treehouses, there are a variety of glamping opportunities available and cater to various interests and budgets. Glamping is perfect for those who want to experience nature without giving up amenities such as comfortable beds, private bathrooms, and gourmet meals. It is a form of escapism that allows people to unwind and get away from it all. This article will explore the wonders of glamping and why it's worth trying.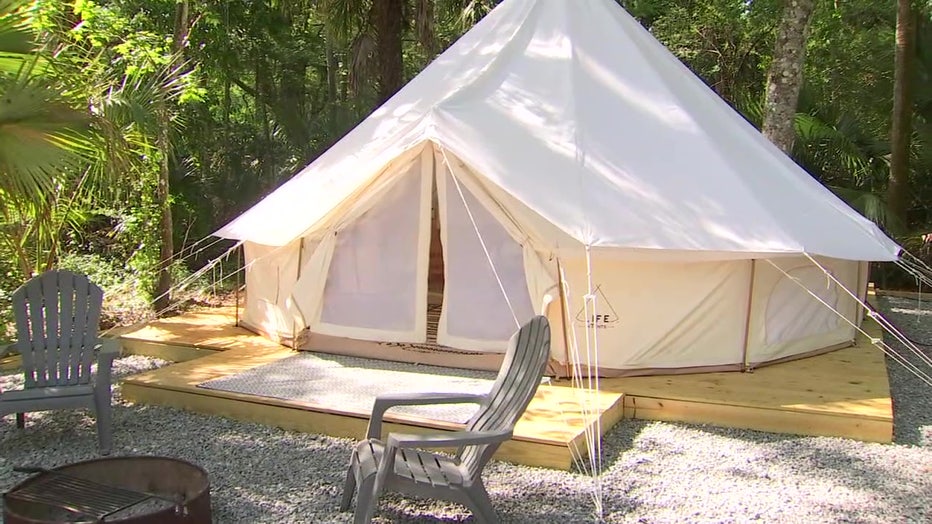 Credit: www.fox13news.com
The Best Glamping Destinations In The World
Glamping – glamour camping – is a popular way of enjoying nature in style. It is a luxurious way of camping, where visitors can experience the outdoors, without sacrificing comfort. Glamping is a perfect opportunity for individuals to enjoy the best of both worlds – the beauty of nature, while still having access to all the amenities they need.
In this section, we explore some of the best glamping destinations in the world, including what makes them unique, the activities and amenities available in each destination, and the recommended time of the year to visit.
Mix Of Destinations Around The World
Glamping is now a popular phenomenon found in many parts of the world.
Treebones resort in the usa. This unique resort is located in big sur, california, and offers visitors an opportunity to sleep in a human-sized nest. Guests can also enjoy the breathtaking views of the pacific ocean.
Fforest farm in wales, uk. This glamping destination is located in a 200-acre farm, surrounded by forests and close to the coast. Guests can choose from a wide range of accommodation, including camping, domes, and cabins.
Longitude 131 in australia. This resort is located in uluru, australia, and offers visitors an opportunity to sleep under the stars while enjoying the serene environment surrounding uluru.
Lion sands game reserve in south africa. If you enjoy wildlife, then lion sands game reserve is a perfect destination for you. Visitors can choose from a wide range of luxurious lodges, with private decks overlooking the game reserve, providing them with jaw-dropping views of the african wilderness.
Description Of Each Location And What Makes It Unique
Each glamping destination is unique in its way, providing visitors with diverse experiences.
Treebones resort offers a unique experience in a human-sized nest, with breathtaking views of the pacific ocean.
Fforest farm is ideal for visitors looking for a serene environment close to nature, with a wide range of accommodation options to choose from.
Longitude 131 provides visitors with a once-in-a-lifetime opportunity to experience the australian outback in luxury, with a view of the beautiful uluru.
Lion sands game reserve provides visitors with an opportunity to immerse themselves in exceptional african wildlife within comfortable, luxurious lodges.
Activities And Amenities Available In Each Destination
Glamping destinations offer visitors unique experiences that go beyond sleeping in a tent.
Treebones resort offers yoga classes, cultural tours, hiking, and massage sessions, among other activities.
Fforest farm provides visitors with access to a communal kitchen, a wood-fired sauna, and a variety of outdoor activities, including forest walks, mountain bike trails, and pony rides.
Longitude 131 offers visitors the chance to explore the outback, with guided tours of uluru, helicopter tours, or hot air balloon rides.
Lion sands game reserve provides visitors with opportunities to enjoy game drives, guided walks, bird watching, star gazing, and swimming in natural pools.
Recommended Time Of The Year To Visit
The best time to visit any glamping destination depends on a variety of factors, including climate, weather, and seasonal changes.
Treebones resort is best visited between march and may and september to november when temperatures are moderate.
Fforest farm is open all year round, but the summer months in wales offer the best weather for outdoor activities.
Longitude 131 is best visited between april and september when the weather is moderate, and there's less rainfall.
Lion sands game reserve is best visited between may and september, coinciding with the dry season and the best time to spot wildlife.
Glamping is an excellent opportunity for individuals looking to enjoy nature in style without sacrificing comfort. With a wide array of destinations worldwide, visitors can choose from a range of unique experiences. Each location offers its unique activities and amenities, making it an attractive option for individuals looking for adventure or a relaxing getaway.
Types Of Glamping Accommodations
Glamping (glamorous camping) has become increasingly popular among those who want to enjoy nature while still indulging in a little luxury. It offers a perfect way to escape the hustle and bustle of daily life without sacrificing comfort. If you are looking for a unique and comfortable way to experience the great outdoors, then glamping is an excellent option to consider.
In this blog post, we will take a closer look at the different types of glamping accommodations available, each of which offers its unique benefits and features.
Tents
Tents are perhaps the most popular form of glamping accommodation. Since they come in a wide range of sizes and styles, from basic canvas and wooden frame tents to luxurious safari-style tents with air conditioning and en-suite facilities, there is a tent for every taste and budget.
Tents offer an authentic outdoor experience, allowing you to feel closer to nature while still providing a comfortable sleeping environment.
Some tents come with basic facilities, such as cots or airbeds, while others offer more luxury amenities like comfy beds, heating, and running water.
Tented accommodation is perfect for the adventurous, nature-loving traveler who wants to experience the outdoors in comfort.
Treehouses
Treehouses are another popular option for glamping enthusiasts, offering a unique perspective on the great outdoors. Nestled high up in the tree canopy, treehouses provide unparalleled views of the surrounding area, while still providing all the necessary amenities.
Treehouses come in a variety of shapes and sizes, ranging from basic wooden cabins to multi-story luxury structures.
Many treehouses include amenities such as hot tubs, private decks, and stunning views.
Treehouses are perfect for couples looking for a romantic getaway or families seeking an adventure in nature.
Yurts
If you're looking for a unique and authentic camping experience, consider a yurt. Originating from central asia, yurts are sturdy structures made from a wooden frame and a felt or canvas covering. They provide a cozy and comfortable living experience with a distinct cultural twist.
Yurts are spacious and often come with luxurious amenities such as king-size beds, heating, and en-suite bathrooms.
Their circular shape creates a unique living experience and provides a distinct aesthetic.
Yurts are ideal for travelers who want to blend unique cultural experiences with modern comforts.
Airstreams And Other Unique Accommodations
If you're looking for something truly out of the ordinary, then look no further than unique glamping accommodations such as vintage airstream trailers, converted shipping containers, or even luxury teepees. These accommodations offer all the comforts of a hotel room with the added bonus of being surrounded by nature.
Unique accommodations vary widely, so be sure to research carefully to find one that meets your needs and preferences.
Each accommodation has its unique appeal, from the retro charm of an airstream trailer to the modern, minimalist luxury of a shipping container.
Unique accommodations are perfect for travelers who are looking for a novel experience that blends nature with comfort.
Glamping has become a popular way to experience nature without sacrificing the comforts of home. Whether you prefer sleeping under the canvas of a tent or high up in a treehouse, there is a glamping accommodation for every taste and budget.
So why not ditch the hotel and try something truly unique on your next adventure?
Essential Glamping Gear And Equipment
Glamping, or glamour camping, is a wonderful way for travelers to reconnect with nature without sacrificing comfort. It gives you the opportunity to enjoy nature in style, with all the luxuries of home. If you are planning a glamping trip, there are some essential gear and equipment that you'll need to bring.
Clothing And Footwear That Are Suitable For Glamping
Comfortable and practical clothes are the most suitable for a glamping trip. You want to be able to easily move around in them, and they should be appropriate for outdoor activities.
Pack clothing appropriate to the season and location. Bring plenty of layers, as temperatures can drop significantly during the night.
Footwear is also very important. Choose comfortable shoes or boots that can handle rough terrain and uneven surfaces.
Essential Camping Equipment That Glampers Need To Bring
A quality tent is essential to your glamping experience. Make sure it is sturdy, waterproof, and large enough to accommodate your needs.
Sleeping bags, blankets, and pillows will also keep you warm and comfortable during the night. Bring ones that are suitable for the expected temperatures.
A camping stove or portable grill will enable you to cook meals in the great outdoors. Don't forget to bring utensils, plates, and cups too.
A cooler with ice packs will ensure that you can keep your food fresh.
Optional Items That Can Enhance Your Glamping Experience
A comfortable camping chair or hammock provides a relaxing spot to enjoy nature and read a book.
Solar-powered lights or string lights can help create a cozy and inviting atmosphere in the evening.
A portable speaker can provide music or other entertainment while you're away from home.
A campfire cooking set can add to the fun of cooking over an open fire.
With the proper gear and equipment, glamping can be a truly luxurious way to experience the outdoors. Follow these tips for successful glamping and enjoy the wonders of nature in style!
Glamping Food And Drinks
Glamping has become one of the latest and greatest trends in the world of travel. It combines the excitement of camping with the comfort of a luxury hotel room, allowing people to enjoy nature in style. If you're planning to embark on a glamping adventure anytime soon, you're probably wondering what kind of food and drinks you should bring.
Don't worry; we've got you covered. In this section, we'll explore some tips and tricks for cooking in the great outdoors, some delicious and easy-to-make recipes perfect for glamping, and recommendations for drinks and snacks to enjoy during your trip.
Tips And Tricks For Cooking In The Great Outdoors
Plan ahead: Before leaving for your glamping trip, plan out the meals you're going to cook. Make a list of all the ingredients you'll need, and don't forget to bring any cooking utensils you might need, such as a grill or a portable stove.
Keep it simple: When it comes to cooking in the great outdoors, it's best to keep things simple. Stick to recipes that are easy to make and don't require a lot of prep time or complicated cooking techniques.
Use local ingredients: If you're camping in a spot with local produce, take advantage of it! Not only will local ingredients provide you with a taste of the area, but they'll also be fresher and more flavorful than anything you can buy in a grocery store.
Bring non-perishable items: In addition to fresh ingredients, make sure to bring non-perishable items like canned goods, dried fruits, and nuts. These are great for snacking on throughout the day and can be used as emergency supplies if you run out of fresh food.
Store food properly: When camping, it's essential to store food properly to prevent spoilage. Invest in a good cooler with plenty of ice, and make sure to store raw and cooked foods separately to avoid cross-contamination.
Delicious And Easy-To-Make Recipes Perfect For Glamping
Foil packet grilled salmon: This recipe is easy to make and requires minimal cleanup. Simply wrap salmon fillets in foil with some lemon, butter, and herbs, and grill over an open flame. Serve with grilled vegetables or a side of rice.
Grilled sausage and veggie kebabs: These kebabs are a crowd-pleaser and can be customized to your liking. Simply alternate sausage, peppers, onions, and mushrooms on skewers, brush with olive oil, and grill over medium-high heat.
Dutch oven chili: This hearty recipe is perfect for a chilly evening around the campfire. Brown ground beef and onions in a dutch oven, then add canned tomatoes, kidney beans, and chili powder. Cook over medium heat for 30-40 minutes, and serve with cornbread or crackers.
Recommendations For Drinks And Snacks To Enjoy During Your Glamping Trip
Charcuterie board: Put together a charcuterie board with a variety of cheeses, meats, crackers, and fruits. It's easy to graze on throughout the day and pairs perfectly with a glass of wine.
Trail mix: Make your own trail mix with your favorite nuts, dried fruits, and chocolate chips. It's the perfect snack to take on a hike or enjoy around the campfire.
Campfire cocktails: Freeze fruit juice or lemonade in ice cube trays and add them to a glass of sparkling water or soda for a refreshing drink. For something a little stronger, pack a small bottle of your favorite liquor and mix with a store-bought mixer like ginger beer or tonic water.
Glamping food and drinks don't have to be complicated. With a little bit of planning and preparation, you can enjoy delicious meals and refreshing drinks while enjoying nature in style. Follow these simple tips and tricks, try out our easy-to-make recipes, and bring along some tasty snacks, and you're sure to have a memorable and satisfying glamping experience.
Eco-Friendly Glamping Practices
Experience nature without compromising comfort with glamping. It offers the best of both worlds for those who love the outdoors but don't want to rough it out. And what's more, glamping can be done while still practicing eco-friendly habits. In this post, we'll explore sustainable glamping practices, why preserving natural surroundings is critical, and tips and tricks to be responsible while glamping in the great outdoors.
So let's dive in and learn about eco-friendly glamping practices.
Sustainable Glamping Practices That Have A Lesser Impact On The Environment
Sustainable glamping is all about minimizing impact on the environment while maximizing enjoyment of it.
Use biodegradable, fragrance-free toiletries and cleaning products.
Opt for rechargeable batteries and/or solar-powered chargers for your electronics.
Use eco-friendly insulation materials (such as wool, cork, or recycled materials) for your glamping tents.
Use led or other energy-efficient lighting options.
Always pack out what you pack in (i. E. , take all your waste with you).
Importance Of Preserving The Natural Surroundings
Preserving natural surroundings is essential for the ecosystem's longevity, which in turn benefits humans. It's also what attracts us to the great outdoors in the first place.
The natural surroundings provide a habitat for wildlife and help maintain biodiversity.
Natural surroundings help to regulate the climate, and protect the planet from the impacts of climate change.
It provides us with clean air, water, and food, essential for our well-being.
Spending time in nature also has numerous health benefits, such as boosting our mood and reducing stress.
Tips And Tricks To Be Responsible When Glamping In Natural Areas
Here are a few tips and tricks to make sure you're being responsible while glamping in natural areas:
Respect wildlife by not feeding them, disturbing their habitats, or leaving trash out that they can access.
Stick to designated trails and campsites and avoid trampling on vegetative areas.
Be mindful of using campfires, keeping them small and using established fire rings, or better still, using lightweight backpacking stoves.
Be conscious of the sound that you're making, and keep music and other noises to a minimum.
By following these sustainable practices, preserving our natural surroundings, and being responsible while glamping in natural areas, we can ensure that everyone has access to enjoy nature's beauty for years to come. Remember, leave no trace and pack out what you pack in.
Happy glamping!
Frequently Asked Questions Of Glamping Enjoy Nature In Style
What Is Glamping?
Glamping is a luxurious form of camping that offers all the comforts of home while providing a way to enjoy nature. It involves spacious tents, comfortable bedding, and other amenities that make for a relaxing outdoor experience.
How Is Glamping Different From Camping?
While traditional camping involves roughing it in the wilderness, glamping adds luxurious elements to the experience. Unlike camping, glamping offers comfortable bedding, spacious tents, and other amenities that make it easier to enjoy nature without sacrificing convenience.
What Amenities Can I Expect When Glamping?
Glamping comes with a variety of amenities, including electricity, air conditioning, comfortable bedding, refrigerators, and even private bathrooms. Some glamping sites also offer hot tubs, bike rentals, and other recreational activities.
Is Glamping Environmentally Friendly?
Glamping can be environmentally friendly if done right. Many glamping sites are designed to have a minimal impact on the environment, with sustainable practices like recycling and composting. Some sites also offer eco-friendly activities, like hiking and birdwatching.
Where Can I Go Glamping?
Glamping is becoming more popular around the world, with sites available in a variety of locations, from national parks to private ranches. Some popular destinations include california, colorado, and new york. You can also find glamping options in international destinations like japan, australia, and europe.
Conclusion
With all the hustle and bustle of daily life, it can be tough to find time to connect with nature. Glamping offers a solution to this problem, letting you immerse yourself in the great outdoors without sacrificing comfort and style.
From luxurious tents to cozy cabins, glamping accommodations provide all the amenities you need to relax and recharge. Plus, the natural surroundings offer plenty of opportunities for adventure, whether you're hiking, fishing, or stargazing. Best of all, glamping is a sustainable way to travel, allowing you to get close to nature while minimizing your impact on the environment.
So why not give glamping a try on your next vacation? With so many beautiful destinations to choose from, you're sure to find the perfect place to escape and reconnect with nature in style.
Michael has been a traveler and blogger since he was 17 years old. Now his passion is hiking, traveling, camping, and revealing his outdoor secrets. Stay connect with us for outdoor events and camping trips together.