California offers an array of extreme activities for adventure enthusiasts. California is a hub for thrill-seekers seeking heart-pumping and adrenaline-inducing activities.
Bungee jumping from a bridge, skydiving from 10,000 feet above sea level, surfing the epic waves, or scaling the towering mountains- california has something for everyone. For those who yearn for waterborne adventures, shark cage diving, and white-water rafting make for exceptional bucket list endeavors.
California's dramatic coastline offers excellent opportunities for kayaking, swimming, and exploring underwater caves. Moreover, desert activities like sandboarding, atv rentals, and dune buggy rides attract visitors in large numbers. If you're an adventure enthusiast, california is the perfect destination to indulge in extreme activities and make unforgettable memories.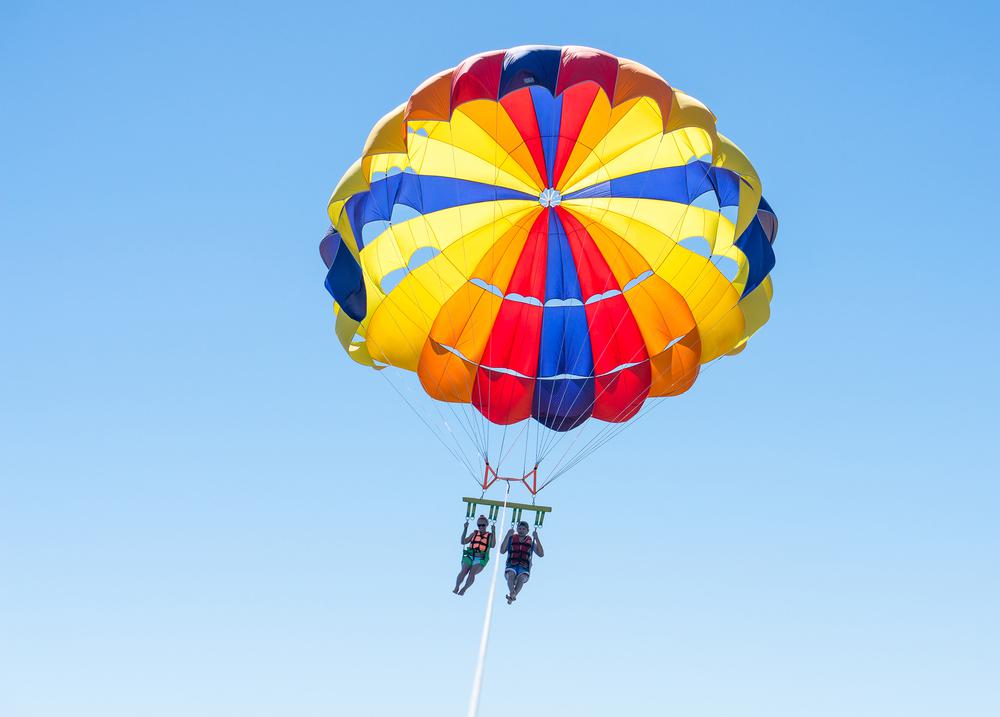 Credit: www.california.com
Skydiving: Feeling The Ultimate Rush
California is known for its diverse attractions and extreme activities that push people out of their comfort zones. If you're an adrenaline junkie, skydiving could be the perfect activity for you. California offers some of the best skydiving locations in the world, and the experience of soaring through the sky is indescribable.
In this blog, we'll dive into the details of tandem jumps vs solo jumps, the most popular skydiving locations in california, safety concerns and precautions you need to take, and the best time to experience this adventure.
Tandem Jumps Vs. Solo Jumps
Skydiving can be done by anyone, even if you've never tried it before. There are two types of jumps – tandem jumps and solo jumps. Tandem jumps are perfect for first-timers as it involves jumping in tandem with an experienced instructor.
You will be connected to the instructor throughout the jump via a harness system. The instructor will have complete control of the jump and will guide you through the entire process. A solo jump, on the other hand, is for experienced skydivers who have completed the necessary training and have the required certification.
They have complete control of their jump from flying to landing.
Most Popular Skydiving Locations In California
California is home to some of the best skydiving locations in the world, thanks to the breathtaking views and diverse landscapes.
Skydive santa barbara: This location offers a view of the pacific ocean, channel islands, and the santa ynez mountains.
Skydive san diego: Located near the mexican border, this location offers 360-degree views of the pacific ocean, anza-borrego desert, and coronado islands.
Skydive elsinore: This location offers views of lake elsinore and the ortega mountains.
The experience of each location differs from one another, so it's essential to research and select one that fits your preferences.
Safety Concerns And Precautions To Take While Skydiving
Skydiving may sound scary, but it's considered to be relatively safe. However, taking the necessary precautions can make the experience safer.
Follow all the instructions given by the instructor.
Check and double-check all the equipment before the jump.
Wear appropriate clothing and gear.
Be in good physical health.
Avoid consuming alcohol or any mind-altering substances before the jump.
Best Time Of Year For Skydiving In California
Skydiving can be done all year round in california. However, the best time to experience this adventure is from may to october, which offers the perfect weather conditions for a safe and enjoyable jump. The weather conditions during this time are warm, clear, and mostly sunny, making it the ideal time to enjoy breathtaking views and feel the rush of adrenaline.
Skydiving in california offers a unique experience that should be on every adrenaline junkie's bucket list. Whether you choose to opt for a tandem jump or solo jump, follow all the necessary precautions, and select the best location based on your preferences.
The experience of soaring through the sky while overlooking breathtaking views is indescribable and is something that should be experienced at least once in a lifetime.
Bungee Jumping: Taking The Plunge
California is a state with a year-round sunny climate, diverse landscape, and lots of thrilling adventure opportunities. Bungee jumping is one of the most extreme activities that you can experience in this state, and it is not for the faint of heart.
While bungee jumping is not completely risk-free, it remains one of the most memorable and adrenaline-filled experiences for many. If you're seeking an adventure in california, then bungee jumping might just be the activity for you.
Bungee Jumping Safety Protocols In California
Safety is crucial in bungee jumping, and adhering to safety protocols has never been more critical.
Age restrictions: While several bungee jumping sites in california offer bungee jumping experiences for individuals aged 14 and above, usually, the minimum age requirement is 18 years.
Health requirements: Bungee jumping sites will typically require you to fill out medical paperwork, and some might require a physician's statement if you have a medical condition.
Weight restrictions: Bungee jumping operators usually have weight restrictions that you must meet to participate in this activity.
Equipment check: The equipment used in bungee jumping should be checked regularly, and harnesses and cords must be in good condition before you start your jump.
Trained professionals: Only experienced and trained professionals should operate bungee jumping activities.
Best Locations For Bungee Jumping In California
California has various locations where bungee jumpers can take the plunge.
Bungee america – located in the angeles national forest, bungee america offers one of the highest bungee jumps in california. With a height of 200 feet, the jump will give you an adrenaline rush like no other.
Bridge to nowhere – this location is located in the san gabriel mountains near azusa. Your jump experience will involve leaping off a 10-story bridge and plunging 100 feet before the cord recoils.
Skydive perris – while known for skydiving, skydive perris is also an excellent location to bungee jump. It's home to a 300 ft crane, one of the world's tallest cranes used for bungee jumping.
Preparing For Your First Bungee Jump
If you're a first-time bungee jumper, it is essential to prepare yourself mentally and physically.
Eat a light and healthy meal before going bungee jumping.
Wear comfortable clothes that enable movement, like athletic wear. Avoid bulky clothing that may restrict movement.
Listen and follow the operator's instructions, including safety protocols.
Mentally prepare yourself by focusing on your breathing. Steadying your breath will help you remain calm and collected throughout the experience.
Tales Of The Most Thrilling Bungee Jumps In California
One of the most thrilling bungee jumps in california is at the bridge to nowhere. As mentioned earlier, the jump takes place on a 10-story bridge, and once you take the plunge, it's an intense freefall for about 100 feet before the cord recoils.
Bungee jumping at bungee america is also a heart-pumping experience. The jump takes place on the iconic bridge to nowhere in angeles national forest, which towers at 200 feet. The sheer height of the jump is enough to take experienced jumpers' breath away.
Bungee jumping in california is an unforgettable and thrilling adventure. As long as you adhere to the safety protocols and prepare yourself mentally and physically, you're sure to have an amazing experience. Whether you're a first-time jumper or an experienced thrill-seeker, there is a bungee jumping location in california awaiting you.
So, go ahead and take the plunge to get that adrenaline rush of a lifetime!
Rock Climbing: Conquering Heights
Are you an adrenaline junkie looking for something to satisfy your thirst for adventure? Rock climbing could be the ultimate outdoor activity for you! With its challenging routes and breathtaking views, california is a premier destination for rock climbers. In this post, we'll cover everything you need to know about rock climbing in california, from the best locations to safety tips and gear requirements.
Best Rock Climbing Locations In California
With its diverse terrain and natural beauty, california offers endless rock climbing opportunities.
Joshua tree national park: Known for its unique rock formations, joshua tree is a popular destination for bouldering and traditional climbing.
Yosemite national park: A world-renowned destination for rock climbers, yosemite boasts stunning granite formations, including the iconic el capitan.
Lake tahoe: Lovers of sport climbing will appreciate the granite cliffs and challenging routes of lake tahoe.
Bishop: This small town in the eastern sierra is a hub for bouldering and sport climbing, with countless granite formations to explore.
Equipment Required For Rock Climbing
Before you hit the rock, you need to make sure you have the right gear.
Climbing shoes: These specialized shoes will help you grip the rock and improve your technique.
Harness: A harness will keep you safe and secure as you climb.
Chalk bag: A chalk bag will help keep your hands dry and improve your grip.
Helmet: Always wear a helmet to protect your head from falls and debris.
Rope: For traditional climbing, you'll need a rope to anchor yourself and your partner.
Safety Tips For A Successful Rock Climb
Rock climbing can be dangerous, so it's essential to follow safety guidelines to prevent accidents.
Always climb with a partner and make sure you are both experienced and prepared.
Before you climb, inspect the rock for loose or unstable sections.
Always wear a helmet and proper gear, and double-check all your equipment before starting your climb.
Communicate clearly with your partner and establish a system for safety calls and signals.
Be aware of your limits and don't take unnecessary risks.
Learning The Basics Of Rock Climbing
If you're new to rock climbing, it's essential to start with the basics.
Find a reputable climbing gym or guide service to learn the basics of climbing, including techniques, gear, and safety protocols.
Start with easy routes and gradually increase the difficulty as you gain experience.
Practice basic skills, such as belaying and knot-tying, until they become second nature.
Learn to read the rock and anticipate challenges to improve your technique and safety.
Rock climbing can be a thrilling and rewarding adventure, but it requires proper preparation, equipment, and safety measures. Always climb with a partner, double-check your gear, and follow safety guidelines to prevent accidents. With its stunning natural landscapes and diverse terrain, california is an exciting destination for rock climbers of all levels.
Surfing: Riding The Waves
California is known for its world-famous beaches, perfect weather, and incredible waves; it's paradise for surfers. Whether you're a seasoned pro or a beginner, california has something to offer, from sunny san diego to the waves of san francisco. Surfing is more than just a sport in california; it's a way of life.
Best Surfing Locations In California
California has a long coast, so you can bet there are plenty of awesome surfing locations to choose from.
Huntington beach: Known as "surf city usa," this location features over nine miles of uninterrupted shoreline.
La jolla cove: Surrounded by breathtaking cliffs, this location is ideal for beginners looking to catch small waves.
Malibu: A hot spot for celebrities and professionals, malibu is a must-visit destination.
Santa cruz: This northern california beach is known for its consistent waves, perfect for anyone looking for a challenge.
Surfing Techniques For Beginners
If you're new to the sport, here are some surfing techniques to help you get started:
Paddling technique: Paddling is a fundamental surf move. Learn how to effectively paddle and control your board.
Standing up: The ultimate goal of surfing. Learn the proper technique to stand up and balance on the board.
Turning: Once you're comfortable standing up, learn how to turn your board to navigate through the waves.
Surfing Safety Tips
Surfing can be dangerous, so it's important to take the necessary precautions.
Never surf alone, always have a friend or instructor with you.
Always use proper surf gear, including a leash and wetsuit.
Pay attention to weather conditions; it's safer to surf in calmer waters.
The Culture Of Surfing In California
Surfing is ingrained in california culture, from the beach lifestyle to the fashion. Surfers have their own language, style, and etiquette. It's not just a sport; it's a way of life. California boasts some of the world's most famous surf competitions, including the us open of surfing in huntington beach.
Surfing in california is an unforgettable experience that every adventure-seeker should try. With the right techniques, safety precautions, and a little bit of culture, you'll be catching waves like a pro in no time. So grab your board, hit the beach and enjoy the ride!
Snowboarding And Skiing: Chasing The Powder Rush
Best Skiing And Snowboarding Locations In California
California is home to many exceptional ski resorts that cater to both skiing and snowboarding enthusiasts.
Heavenly ski resort: Located at south lake tahoe, this resort is known for its stunning views of the lake. It offers challenging terrain for experienced skiers and snowboarders, as well as beginner-friendly runs.
Mammoth mountain: This resort is one of the largest ski resorts in the country, and for a good reason. It boasts of 3,500 acres of skiable terrain, 28 lifts, and over 150 trails. It has runs suitable for all skill levels.
Squaw valley: This resort boasts of more than 6,000 skiable acres and a wide variety of terrain suitable for all skill levels, including some of the most challenging runs in the country.
Equipment Required For Skiing And Snowboarding
Before hitting the slopes, you need to ensure that you have the appropriate gear for skiing and snowboarding.
Skis or snowboard: You cannot ski or snowboard without the appropriate equipment. You can either rent or buy your equipment, depending on your preference and budget.
Ski or snowboarding boots: These are essential for holding your feet in place while you're skiing or snowboarding.
Ski or snowboarding helmet: A helmet is a must-have for any skier or snowboarder, regardless of skill level. It can help prevent head injuries in case of an accident.
Goggles or sunglasses: These protect your eyes from the sun and glare from the snow.
Safety Tips For Skiing And Snowboarding
Skiing and snowboarding can be dangerous activities that require caution and preparation.
Dress appropriately for the weather conditions to avoid hypothermia or frostbite.
Check the weather and snow conditions before heading out to the mountains.
Always follow the signs and markings on the trails to ensure that you're on the right track.
Always wear a helmet and other protective gear, including wrist guards and knee pads, to reduce the risk of injury.
Take lessons if you're a beginner to learn the correct techniques and how to control your speed.
Preparing For Your First Skiing Or Snowboarding Trip
If it's your first time skiing or snowboarding, there are a few things you need to know to ensure that you have a fun and successful trip.
Take lessons from a professional instructor to learn the basics of skiing or snowboarding.
Dress appropriately for the weather conditions and wear layers to adjust to changing temperatures.
Rent your equipment or buy used gear if you're getting started to save money.
Stay hydrated by drinking plenty of water throughout the day, as the high altitude can cause dehydration.
Skiing and snowboarding are exciting, high-intensity winter sports that can provide an adrenaline rush like no other. By following these tips, you can ensure that you're prepared, safe, and enjoy chasing the powder rush in california's best skiing and snowboarding locations.
Frequently Asked Questions Of Extreme Activities In California
What Extreme Activities Can I Try In California?
You can try skydiving, bungee jumping, rock climbing, and surfing. California is famous for outdoor adventures that will pump up your adrenaline.
What Are The Safety Precautions When Doing Extreme Activities In California?
Make sure to follow the instructions provided by your guides or instructors and always wear safety gear. Stay hydrated, and know your limits to avoid injuries.
Do I Need To Have Special Skills To Experience Extreme Activities In California?
Some activities require skills and experience like rock climbing, while others like zip-lining, anyone can try. Research and choose an activity that matches your skill level.
Can I Experience Extreme Activities If I Have A Fear Of Heights?
Yes, you can still experience extreme activities even if you have a fear of heights. You can try kayaking, white-water rafting, or dirt biking as an alternative.
What Are Some Of The Best Places For Extreme Activities In California?
There are many places to experience extreme activities in california like big bear lake, lake tahoe, yosemite national park, and joshua tree national park. Each offers unique activities.
Are There Age Restrictions For Extreme Activities In California?
Yes. Age limits may vary depending on the activity, so make sure to research before booking. Some activities require participants to be at least 18 years old or have parental consent.
Conclusion
California is a state that has something for everyone, especially the adventure seekers. From the death-defying surfing waves of mavericks in half moon bay, to the exhilarating roller coaster ride of tatsu at six flags magic mountain, the extreme activities in california are guaranteed to make your heart pump.
For the thrill-seekers, bungee jumping from the bridge to nowhere or skydiving over the breathtaking wine country of napa valley are experiences they will never forget. If you prefer water activities, white water rafting on the rapids of american river or shark diving in san diego may be more to your liking.
California's natural beauty and diverse landscape provide exceptional opportunities for extreme sports enthusiasts to experience adrenaline-pumping activities while taking in the breathtaking views nature has to offer. The memories made from participating in these activities will be cherished for a lifetime and leave you craving for more.
So, come and embrace the adrenaline bumps, and discover the excitement and adventure that awaits you in california!
Michael has been a traveler and blogger since he was 17 years old. Now his passion is hiking, traveling, camping, and revealing his outdoor secrets. Stay connect with us for outdoor events and camping trips together.